Part Time Front Desk Assistant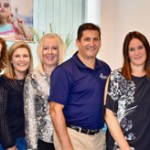 We have a position available  at Spinelab for a fun loving, people person who can multi task and is great on the computer.
You will join our front desk team, where you will work front of house, meeting and greeting our patients, taking telephone and email enquiries, while running the appointment and payment system of the clinic.
This position is a job share, but we are looking for you to work Thursdays 2.00-8.00pm and Fridays 8.30am-2.00pm, while also being available to cover your colleagues holidays.
Pay -£20,800 prorate ( £10 ph) after completing training and probation
Immediate start
To apply send covering letter and CV to manager@spinelab.co.uk
Please no phone enquiries, thank you.