Chiropractic, Craniopathy and Babies
All our Edgware, North London, Mill Hill and Stanmore practitioners have a soft spot for babies. We have a lot experience at our clinics in assessing and treating newborns. We use specially modified cranial and paediatric techniques that are taught to SOT chiropractors and combine care with baby massage.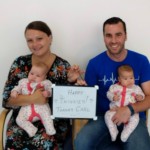 Carl Irwin ha been a lead lecturer for SOTO-Europe and holds an advanced certificate in sacro-occipital technique, practices cranial and webster techniques.
In gently 'unwinding' babies we reduce the tension they are carrying in their cranium and spine. We find this really helps to settle babies and their parents are extremely grateful.
Please feel free to contact us to ask any questions, you are also welcome to book in for a FREE consultation, call 020 8905 4440.
---
 Chiropractor | Craniopathy | Babies | SpineLab | 020 8905 4440