Edgware, Mill Hill, Stanmore,Bushey & Harrow's Awarding winning Chiropractors

It really does not seem  over 20 years ago when Carl Irwin initially set up his Chiropractic Clinic in 1991 in Deans Lane, Mill Hill, London.
The clinic was relocated to a purpose built 2000sq foot centre in 1997, to its present location on the A41, Edgware Way. Gone are the days of having to stand outside the clinic, because our waiting area could not accommodate all our patients.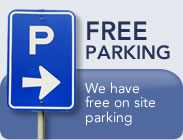 We are conveniently located on Mowbray Parade, A41 in easy reach of Edgware, Mill Hill and Stanmore, with free parking and disabled access.
Transport links are also very good for the Northen line, City Thames Link and bus routes enable patients to travel to right outside the clinic.
Now Edgware, Mill Hill, Stanmore, Harrow & Bushey's Chiropractors have 3 chiropractors, its own rehab gym, digital x-ray facility with films taken by a qualified radiographer. We employ a chiropodist/ podiartist, massuers, physical therapists, nutritionist , exercise and yoga instructors, while regularly attending post graduate CPD seminars. to give you the best care possible.
Ready to get started? Call 020 8905 4440.