At SpineLab We Can Help….
Getting You Well with North London, Stanmore, Mill Hill, Harrow and Edgware's Favourite Chiropractic Clinic and Chiropractor, Carl Irwin.
Our goal is to help as many people as possible. Get started today!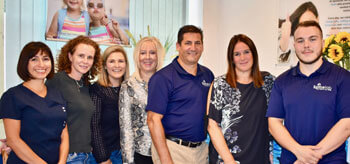 Because craniopathy and chiropractic care helps to revive the proper function of your nervous system, spinelab has helped many people with a variety of health issues.
---
These are some of most common health concerns that Doctors of Chiropractic Carl Irwin and his associates see on a regular basis:

Craniopathy
Dr Carl is one of only 32 SOTO-E certified craniopaths the UK and Europe.
Comfortable Pregnancy
What better way than to soothe away those aches and pains in your neck & back during pregnancy than a visit to SpineLab.
Read More About Pregnancy Care
Getting Older doesn't have to be a Pain
Aging may be scary due to diseases which can easily affect one's health; combat the effects of aging using functional geriatrics (unique to SpineLab), a drug-free, functional and natural approach to problems we see in the elderly, such as joint pain, arthritis, balance problems and falls.
Read more about Functional Geriatrics
Babies, Children and Cranial Chiropractic
Yes babies benefit from cranial chiropractic and kids are increasingly getting back and neck pain in Edgware, Mill Hill and Stanmore,! It's a fact of life these days computers, texting and a sedentary life style from an early age does help. But the good news is there is help at SpineLab and its drug free too.
Read more about Babies, Children and Cranial Chiropractic
Headache and Migraine Relief
If you are one of the many who suffer from headaches in Edgware, Mill Hill and Stanmore, you're in the right place. However, many discover that while the pain is in their head, that's not where the problem is!
Read More About Headache Relief
Computer Neck Help
Find out what a hard day in the office can do to your spine and how our Chiropractors can help.
Read More About Computer/Office Work Help
Beat Back Pain and Sciatica
Back pain effects 4 out of 5 of us, and accounts for the largest number of non essentials visits to GP's. Normally it is simply a mechanical problem and responds very well to natural chiropractic care.
Relieve Pinched Nerve
It feels like a pinched nerve. It seems like a pinched nerve. No wonder so many Edgware, Mill Hill and Stanmore residents think that it's a pinched nerve. Find out what it is!
Read More About Pinched Nerves
Slipped Disc Results
Many who seek a chiropractor do so for disc-related conditions. And chiropractic care combined with physical therapy, exercise & massage is so successful, it's practically routine. Just one little problem. Discs don't slip!
Improve Neck, Shoulder and Arm Problems
So often irritation of the nerves in the neck, don't just give neck pain. They may also refer into the shoulder, arm and hand, giving an array of common problems.
Minor Sports Injury Solutions
To the professional sportsmen chiropractic combined with other modalities, is not only the treatment of choice but considered by many as the best way to keep at your peak level of performance.
Read More About Sport Injuries
Get Started Today
SpineLab can help many conditions with chiropractic care. Contact us today to learn more.
CONTACT US »
---
SpineLab Can We Help | 020 8905 4440