PPQM Award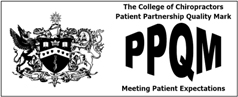 In 2006 the Patient Partnership Quality Award was launched by the Royal College of Chiropractors to recognise excellence in terms of clinics meeting patients' expectations about their care.
We are delighted to announce that we have been accredited with this prestigious award.
This award shows that as a team we are working hard to ensure we are committed to patient care and endeavour to keep exceeding patients' expectations.
WHAT CLINIC – Customer Service Award
This year saw Carl Irwin Chiropractic awarded the What Clinic Customer Service award.
Obviously it makes us all very proud when we are recognised by our patients for the level of service we are able to provide
If chiropractic sounds promising, we encourage you to have a firsthand experience in our practice live so many from Edgware, Mill Hill and Stanmore already have. It's easy to get started. Call today.