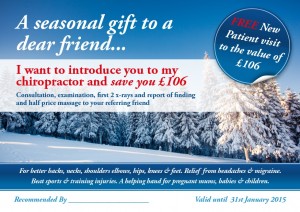 What better way to help someone enjoy the festive season and start the new year with a gift of health.
Please feel feel to print out and give one of these vouchers to any of your family or friends.
---
Our Xmas hours will be:
24th Dec open till 4pm
25th – 28th Dec closed
Mon 29th – Wed 31 st Dec open
Thur 1st Jan closed
open as normal from Fri 2nd Jan
Wishing you and your family a happy, healthy Xmas and new year!